MYERS, WHEN THINGS ARE HAPPENING
ACTING CHAIRMAN ACTING AS IF NOTHING'S AMISS
Adam Larson
Caustic Logic/They Let It Happen
January 10 2007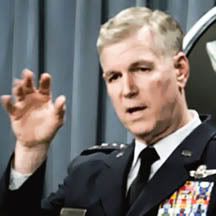 Gen. Richard Myers, CJCS from Sept. 2001-Sept. 2005
In September 2001 Air Force General Richard Myers was Vice-Chairman of the Joint Chiefs of Staff, scheduled on the 13th to be promoted and replace outgoing Chairman Henry Shelton. Myers was able to get a slight head start, taking over as acting JCS Chairman on the morning of September 11th as Shelton left on a trip to Europe on prearranged but unspecified business. [1] It was supposed to be a routine day, of course, but the nation's top military officer, and the optional
number three link in the National Defense Chain of Command
was filled at the last moment by Myers, who took the spot just as
the day's JCS/NORAD war games
, and the 9/11 hijackings, began.
But he while he was, perhaps unwittingly, caught in a ready-made
conspiracy theory crossfire
, Myers was not in the thick of things during the battle of the World Trade Center or even the Pentagon strike. According to American Forces Press Service, Myers:
"was on Capitol Hill that morning in the offices of Georgia Sen. Max Cleland to discuss his confirmation hearing to become chairman. While in an outer office, he said, he saw a television report that a plane had hit the World Trade Center. "They thought it was a small plane or something like that," Myers said. So the two men went ahead with the office call. Meanwhile, the second World Trade Center tower was hit by another jet. "Nobody informed us of that," Myers said. "But when we came out, that was obvious. Then, right at that time, somebody said the Pentagon had been hit."
[2]
Myers' recollection, then, was that his fifty-minute meeting with Cleland (apparently from about 8:50 to 9:40) just sort of eclipsed the whole attack for him. Are we to believe that no one would bother to interrupt the Acting JCS Chairman, perhaps legally required to coordinate the defense, for over a half an hour after the second plane hit? This was the point at which everybody else,
even President Bush
, realized we were under attack. It was bigger and uglier and closer to home than Pearl Harbor by far, and Myers says nobody pulled his head out of the sand for him at all, that he just stumbled into awareness after his meeting had run its course, at the moment the third plane hit.
Myers then drove across town to the NMCC beneath the wounded Pentagon, which he later described as "essentially my battle station when things are happening." [3] Or in this case, as things just got done happening. The 9/11 Commission says he arrived and joined the conference in session just before 10:00. [4] The last plane, Flight 93, crashed at 10:06 and the attack was over.

Sources:
[1] Balz, Dan and Bob Woodward. "America's Chaotic Road to War: Bush's Global Strategy Began to Take Shape in First Frantic Hours After Attack." Washington Post. January 27, 2002. Page A01. http://www.washingtonpost.com/ac2/wp-dyn/A42754-2002Jan26
[2] Rhem, Kathleen, Sgt. 1st Class. "Myers and Sept. 11: "We Hadn't Thought About This."" American Forces Press Service. October 23, 2001 Accessed November 6, 2004 at: http://www.defenselink.mil/news/Oct2001/n10232001_200110236.html
[3] General Richard B. Myers, Senate Confirmation Hearing. Senate Armed Services Committee. September 13, 2001. Accessed August 5, 2005 at: http://www.attackonamerica.net/genrichardbmyerssenateconfirmationhearing9132001.htm
[4] 9/11 Commission Final Report. Page 38.